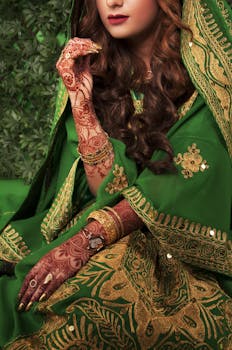 There is virtually no difference between costume jewelry and antique jewelry. Costume Jewelry dates back to the 1930s. By the definition of antique that would also make it antique jewelry. However, most jewelry experts have come to agree that antique jewelry predates the 1930s.
Costume Jewelry came into being in the 1930s as a cheap disposable jewelry meant to be worn with a specific outfit, but not meant to be handed down through generations. It was intended to be fashionable for a short period of time, out date itself, and then be repurchased to fit with a new outfit purchase, or with a new fashion style. It became available in large quantities during the 30s.

Cheap jewelry also existed prior to the 1930s. Paste or glass jewelry as far back as the 1700s. The rich had their fine jewelry duplicated for a variety of reasons, using paste or glass stones. By the mid 1800s with the growth of the middle class there were now different levels of jewelry being manufactured using fine, semi-precious and base materials. Fine jewelry of gold, diamonds, fine gems such as emeralds and saphires continued to be made. Jewelry from rolled gold, which is a thin layer of gold attached to a base metal, entered the market for the middle class. This jewelry was often set with semi-precious gems such as amethyst, coral or pearls, and was much more affordable. And then there was jewelry that most anyone could afford, consisting of glass stones and base metals made to look like gold. All three types were intended to be passed down to future generations.

There are usually clues that can help one identify what era a piece of jewelry is from. Style, material, the type of piece. For example dress clips came in in the 1930s and were out of style by the 1950s. Jewelry reflects styles, designs, colors and stones of the era. For example from 1910 to 1930 silver was the favorite color for metal, so jewelry was found in platinum, white gold, silver or a base metal colored to look like silver. By World War II, gold was popular again but in short supply, since it was vital to the war effort. What gold was available was made into very thin sheets and usually bonded to silver (called vermeil) before being turned into jewelry. By the 1930s rhinestones popularity was ever increasing in Europe. It was not available to the Americans until the 1940s. As a result, many of the pieces from this period tend to feature lots of metal and a single stone or a small cluster of tiny rhinestones. .

Today is certainly not much different from past times. We still have fine jewelry, semi precious jewelry, and of course costume jewelry available to us. Costume jewelry can add the finishing touch and show your fashion sense. Costume Jewelry styles of past years are now becoming very fashionable and many are being reproduced. Even with costume jewelry there is a difference in quality. Many of the new pieces do not have the vibrance in the stones or the weight of the older pieces.
Antique and vintage costume jewelry are both fun to collect and fun to wear. No longer is costume jewelry simply "collectable." It is "in style, and " "fashionable," and a terrific conversation starter. Dress to impress!